A few words about us
Our People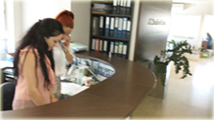 A. V. Savvides & Partners Ltd, is a professional firm based in Limassol, Cyprus, offering audit, tax and advisory services and its personnel comprises of 17 members.

Our firm was established in 1992 by it's founder Aristos Savvides, and it can today be considered as one of the best small to medium size audit firms with respect and recognition among professionals in the same sector as well as among members of the business community.

The firm is operating in accordance to professional standards and local laws and regulations relating to audit and taxation The personal care and attention of its founder, Aristos Savvides, who is an economist and a chartered certified accountant with an experience of over 30 years in the profession, is prominent at all times.
Partners

Aristos V. Savvides BA,FCCA
Martha Marina A. Savvidou BA ( ACC. & FIN.)
Constantina A. Savvidou LLB


Our team consists of people with vast experience and with an aim to provide high-level services which best suit each client's individual needs.